Welcome to Tarporley Parish
One Parish, Three Churches. The parish includes the churches of St Helen in the centre of the village of Tarporley, St Thomas', in the village of Eaton; and St John and The Holy Cross, in Cotebrook.
Happy Easter
Services for Sunday 29th May will be:-
9.00am Holy Communion at St Thomas' Eaton
10.00am Holy Communion at St Helen's Tarporley
Parish of Tarporley - Find us on Facebook! facebook.com/ParishOfTarporley
We will continue to burn the candle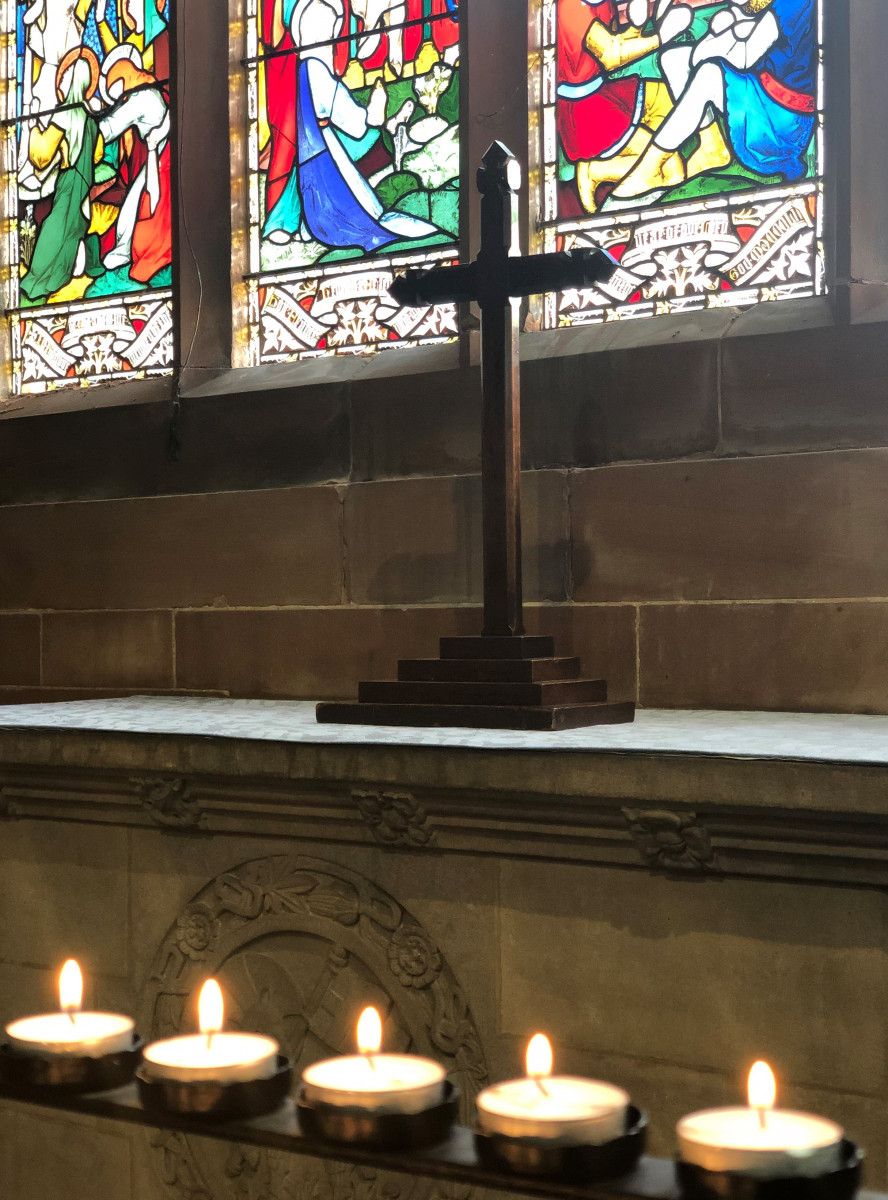 of prayer on behalf of us all
Every Wednesday at 10am there is a said service of Holy Communion at St Helen's Church.
St Helen's is also now open daily from 9am to 5pm for anyone wishing to spend time in private prayer or quiet reflection.
Our Parish Church magazine 'The Link' can be downloaded by clicking here.
COVID update
With the rise in infections and the new Omicron variant, please think carefully about attending services over the coming days, for your safety and the safety of others. If you do wish to attend church, please wear a mask, sanitise your hands, keep social distancing as much as possible, and test yourself beforehand where possible.
Over the coming days, we will monitor our planned events closely, and aim to worship outside where this is practical and feasible. If we have to cancel services, we will endeavour to communicate this as widely and quickly as we can.

Please do not feel under any obligation to attend services if you feel unsafe or at risk, even if you were down to participate (through music, singing in a choir, reading a lesson, sidesperson duty etc). There is no obligation for anyone to attend church!! Please use your judgement, and know that you are not expected to attend services.

Remember that Jesus, Emmanuel, God with us, will be with us whether we meet in buildings to worship, or just celebrate at home.
Safeguarding
St Helen's Parish Church takes its duty and obligation to protect all extremely seriously. We have adopted the national Church of England's robust procedures and guidelines. You can find out more about the national policies and procedures at www.churchofengland.org/safeguarding.
If you have any safeguarding concerns or issues of a safeguarding matter then you can find useful contact information below and at www.chester.anglican.org/socialresponsibility/safeguarding
Our Safeguarding Officer is Liz Neely;
Contact information for Liz may be obtained by e-mailing admin@tarporleyparish.co.uk